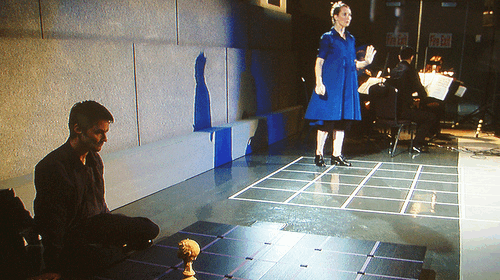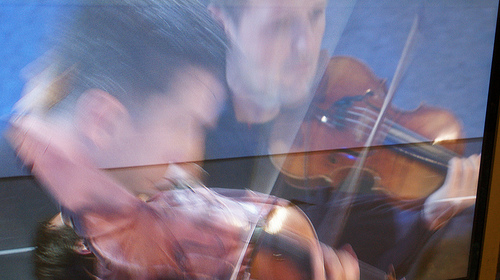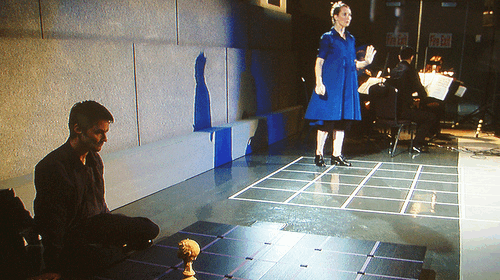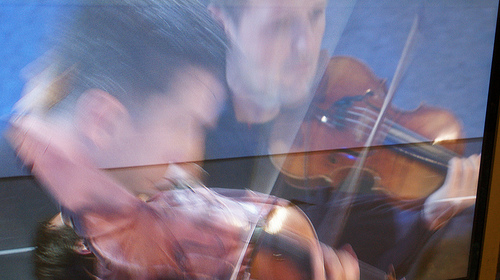 Vestigia (2009 | rev. 2011) | 15:00
string quartet, dancers, video and live-electronics
Penderecki String Quartet & Canada Council for the Arts Commission
Quantum physics continuously raises fascinating questions about what reality really is. Inspired by the many phenomena of quantum physics, the work metaphorically explores these questions for reality, mainly of time and of the uncertainty principle (the more precisely one property is known, the less precisely the other property can be known). In this work, uncertainty between reality and illusion is constantly at play. The work is held quietly together by an electronic sound derived from a pulse used to calculate the data of the NMR machine at the Perimeter Institute for Theoretical Physics in Waterloo. The wave data of this pulse was transformed digitally into sound, and is heard continuously in the background throughout the work. Special thanks goes toRaymond Laflamme and Osama Moussa for giving me the inspiration for this project and for allowing me to use their data from the Institute.
Premiere:
Penderecki String Quartet
DanceTheatre David Earle
Thomas Seelig, audio engineer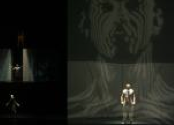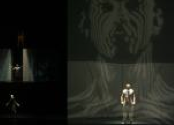 I-th Time (2008) | 60:00
actors, video, hologram, and electronics
presented by Intermedia Performance Lab (IPLAB, Korea)
The play takes place in the 22nd -Century, where genetic mutation becomes widely popular as a method of cosmetic surgery, which eventually causes the creation of new human species. The protagonists, Morgan, narrates its tragic consequences.
Seungyon-Seny Lee, director
Ho Koo, acting director
Kotoka Suzuki, music composition
KunSang Park, acoustic operator & recording engineer
Joo Seop Park, hologram special effect
Yoei (1999) | 20:00
six percussionists, electronics and dancer

Premiere: Center for Computer Research in Music and Acoustics (CCRMA), Stanford University. June, 1999
"Yoei" is a Japanese word, which describes a sound that rings and flutters in the air, resonating in one's ear long after it has been heard. This piece exploits many different acoustic movements to create this effect, with six percussionists and the electronic sound, surrounding the audience in order to complete the spatial environment. The primary goal of this piece, however, is not merely to create sounds, but to combine the world of the visual with that of sound. I have stretched the role of the dancer from merely visual, to both acoustic and visual - creating a live instrumental performer - a dancer who triggers and controls the electronic sounds in real-time using the five electric sensors that are attached to his/her body. All the computer generated sound sources derive from the sounds of the percussion instruments used in this piece, and similarly, the percussion often imitates the sounds of the electronics and the dancer. The percussion sounds were manipulated and recorded of the music of the electronics and the dance using sound editing programs such as Sound Editor and CLM.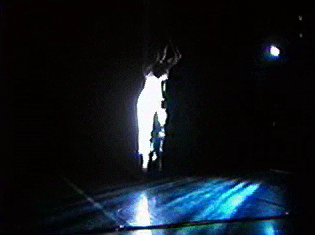 Eclipse (1996) | 6:30
dancers, robotic lights, and electronics

Issac Roth, light design
Heidi Schweiker, choreography / dance
James Jhun, dance