DRAMA (2015)
Sound design and scoring for the work by artist, Geof Oppenheimer on his solo show "Big Boss and the Ecstasy of Pressures".
Block Museum, Northwestern University / Main Gallery
09/12/2015-11/30/2015
 
Anthem (2011)
Sound design and scoring for the work by artist, Geof Oppenheimer
Exhibition: Site Santa Fe, New Mexico, 10/22/11-01/15/11.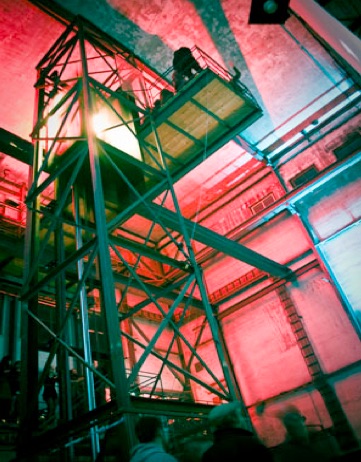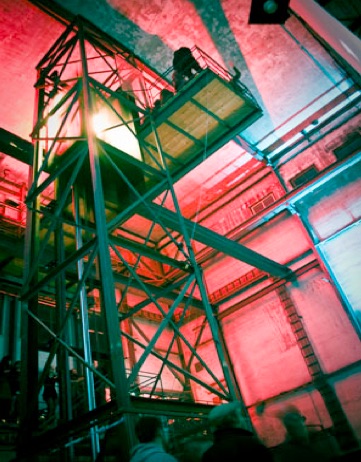 Cinema Vertigo (2009)
Interactive audio-visual installation
Sound design and scoring for the work by artist, Claudia Rohrmoser
Cinema Vertigo is an interactive audiovisual environment and represents a mobile form of a future cinema. It exposes the perceptual effect of the induced movement - often used by the moving camera in film - and transforms it into a new spatial constellation that merges computer art, media façade, and interactive cinema. Cinema Vertigo's most distinctive feature is its large-scale vertical screen format, aligned with a tower of a glass-contained elevator. Cinema Vertigo can be adjusted to any architectural space that includes more than one floor. "In Freefall" is the title of the first "movie" played on the Cinema Vertigo platform. It deals with the state of vertigo, a disturbing feeling between motion and standstill.

Claudia Rohrmoser, director
Kotoka Suzuki, music / audio programming
Marcel Schobel, video
Andreas Schmelas, video programming
Jakob Guggenberger, set design / lighting
Dinge | Lost: Urban Poetry in Motion (2008)
Animation / Installation
Sound design and scoring for the work by artist, Inga Liksaite
Inga Liksaite, textile & motion photography
Claudia Rohrmoser, animator
"The animated video "Lost" takes the text from a poem by Gintaras Patackas. He is a living legend of Kaunas bohemian life and his poem is used as a metaphor which critically express a view about today's life and the city. The poem interprets the harmony between thoughts, ideals and values. The video work is created through a visual manipulation of both text and textiles.
KAUNAS ART BIENNAL- INVADING COMMERCIAL PUBLIC SPACES
Friendly Zone #1 (Draugiska Zona) is an interdisciplinary art project addressing public space in Kaunas. American critic Rosalyn Deutsche asks can aesthetic means produce the experience of being public? The intention of Friendly Zones is to build the capacity of artists to engage with publics. Its interest is the life of the city and the role of artists.
In the first place Friendly Zone addresses Kaunas city publics and both projects use images and text known by inhabitants of that city. Kaunas has a population of just under half a million and is situated at the confluence of the two biggest rivers the Nemunas and the Neris.
The tactic of the project relies on the practitioners' artistry alone to ignite interest and open-up often closed down pockets of memory or experience. In January 2009 the projects were publicly screened over a three-week period on outdoor advertising screens in Kaunas."
-- Inga Liksaite
project description by Inga Liksaite-->>
Ann Sofi Siden
Sound design and scoring for the video documentation of Ann-Sofi Siden's works .
Exhibition: Massachusetts Museum of Contemporary Art, North Adams, Massachusetts.
Swiss Telecom
Sound design & music scoring for TV commercial (2003)